TCA Houston Swaralahari

Stafford Center, 10505 Cash Road, Stafford, TX 77477
City
Stafford
State
TX
Country
United States
---
About the event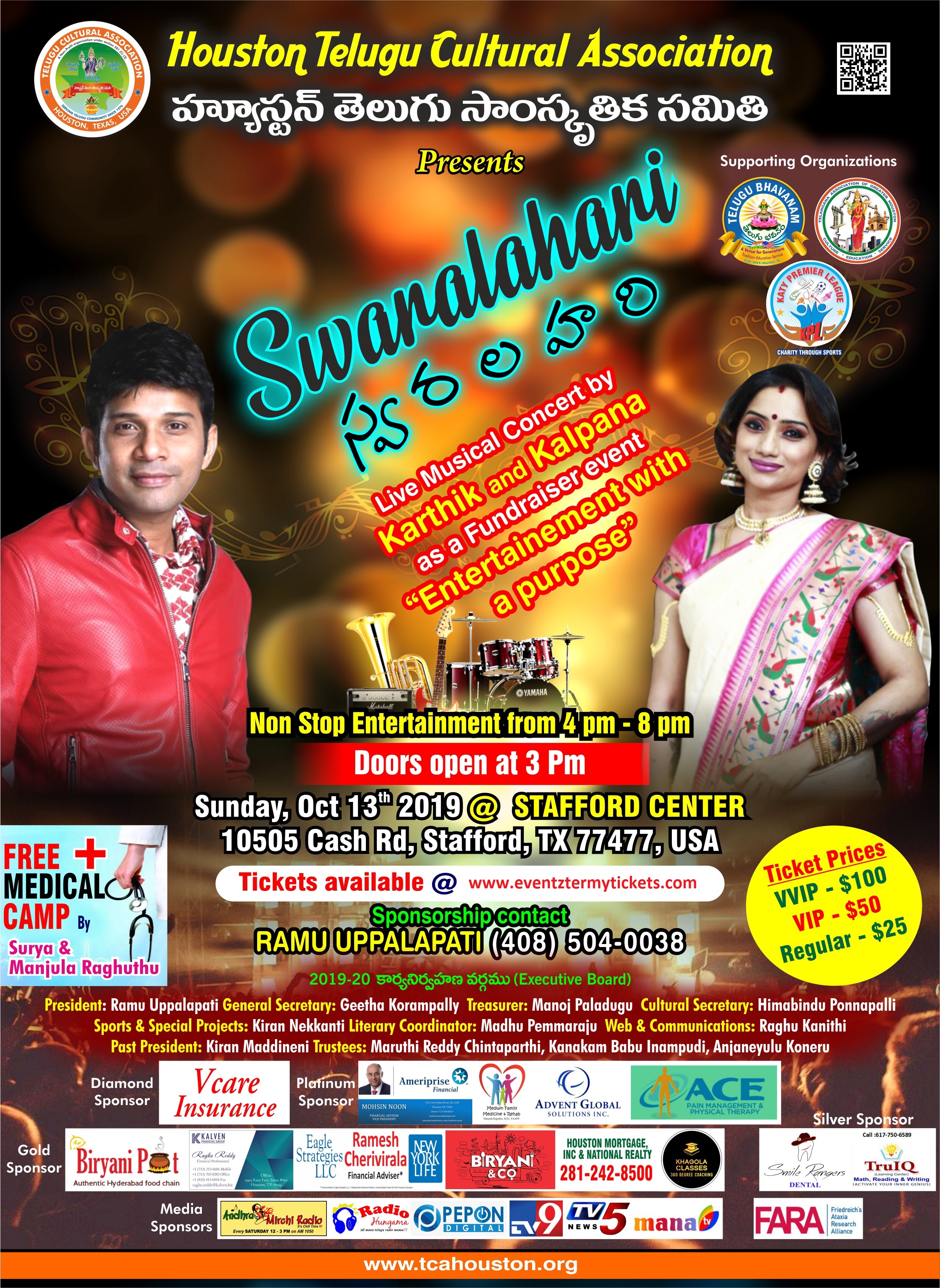 TCA Houston Swaralahari Grand Live in Concert A musical Dhamaka by Karthik & Kalpana First time in Houston at Stafford Center, 10505 Cash Road, Stafford, TX 77477 on Oct 13th Signature Sankranthi and Ugadi Events have a huge gathering of Telugu families under one roof participating and encouraging various cultural activities, of course savoring traditional delicacies Vaggeyakarotsavam & Swaramadhuri focus on traditional and contemporary singing where kids and adults perform with enthusiasm Nela Nela Telugu Vennela events like Texas Sahiti Sadassu, Monthly get together are organized under Literary Umbrella Telugu Badi believes that language is the thread that binds us to our roots, our culture. Currently, it operates in four locations, teaching language to our kids. Merit and Need-based based scholarships provide assistance for students who are in need of financial aid Operating these massive undertakings need funds on a continuous basis not just for the current committee but we need to ensure the financial health is transitioned to the future committees as well. With this objective, we are organizing Swaralahari - Live Musical Concert as a Fundraiser event "Entertainment with a purpose".
Terms & Conditions
All Sales are Final
All tickets are NON-REFUNDABLE and NON-TRANSFERABLE.
The person in whose name the ticket is issued must also be present at the door with valid photo ID.
A printout of the order receipt issued by https://eventztermytickets.com should be produced at the venue.
If the event attendee is different from the credit card holder, a copy of the credit card used for ticket purchase must be produced along with the order.
Any failure in providing the aforementioned documents may result in denial of admission to the event with no refund.
In case of event being cancelled/postponed https://eventztermytickets.com will refund only the face value of the ticket and not the service fee.
Children under 5 year of age are admitted free when accompanied by a paid ticket holder.if the intention is that they will sit on the adults lap.
If the accompanying adult would like the child to have their own seat, then they must purchase a child's ticket. Once they have turned 1, they must purchase a valid ticket.
Eventzter.com Refund Policy
Since Eventzter My Tickets is offering tickets to Events and Movies we do not issue refunds once the order is accomplished. As a customer you are responsible for understanding this upon purchasing any item at our site.
However, we realize that exceptional circumstances can take place with regard to the character of the product we supply.
Therefore, we DO honor requests for the refund on the following reasons:
non-delivery of the product: due to some unavoidable circumstances our events can get cancelled. In this case we will automatically refund the amount in full. If a refund doesn't appear automatically, Claims for non-delivery must be submitted to tickets@eventzter.com in writing within 14 days from the event date. Otherwise the product will be considered received;
Please note that we do not bear any responsibility for the quality of the Movie(s), Event(s) we feature and therefore we do not satisfy any refund/return/exchange requests based on dissatisfaction with the Event or Movie.
Our Technical Support Team is always eager to assist you and deliver highly professional support in a timely manner. Thank you for purchasing our products.